"Stolen Sounds?"
Topical Focus of the 46th Nuremberg Bardentreffen

This year's 46th Nuremberg Bardentreffen has the heading "Stolen Sounds?" and will be held between 21 and 23 July 2023 (one week before the start of the Bavarian summer vacations). With around 90 concerts on eight stages in the picturesque Old Town, the festival will, as usual, present current trends in World Music and Global Pop. In addition to over 400 international artists performing in the official programme, we expect many singer-songwriters to showcase their skills on the streets and in the city's squares.
With this year's heading the festival wants to pick up the current discussion about cultural appropriation and music appreciation. Who may play and which music? May Franconian musicians sing the Blues, may European bands play Reggae? Does Irish Folk have to be Made in Ireland? And Tango in Argentina? What exactly does appropriation mean? Is there a good, appreciating kind of appropriation? And how does it differ from a bad, discriminatory kind?
Mayor Prof. Julia Lehner: "We invite people on and in front of our stages to approach these complex questions with their wonted curiosity, respect and openness to the world. For this is what the Bardentreffen has been about for many years. This is the core of this festival without musical or artistic boundaries. I am very much looking forward to the festival days which will make Nuremberg a capital of music."
Rainer Pirzkall, artistic director of Bardentreffen, added: "You look beyond your own horizon, if you reflect on the often black-and-white debates about cultural appropriation in the context of our international music festival, taking a closer look at this concept."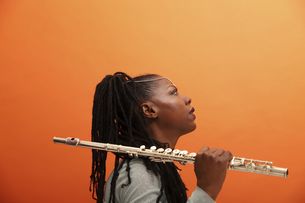 La Dame Blanche (Photo: Maxi Guterman)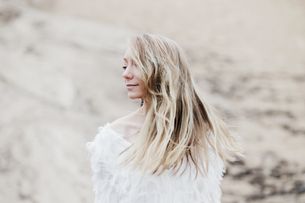 Leléka (Photo: Dovile Sermokas)
A first glance at this year's programme clearly shows: the world of music is full of all manner of appropriation. Want some examples? The Congo Cowboys from South Africa in their wild gallop lasso American Bluegrass and Country with African rhythms.
The Orchestre International du Vetex from Belgium helps itself to Latin, Balkan Music, Tarantella, Polka and Cumbia, very subtly mixing all these ingredients to create its very own new sound. Jameration have hijacked Reggae to France, and German quartet Cara have dedicated themselves to Irish Folk, while singer Leleka and her ensemble reach into a box containing Ukrainian folk songs and Jazz. Most probably, none of the festival guests is completely above suspicion of having "pinched" something sometime. Not the London Afrobeat Collective from the heart of the British metropolis, not Cuban La Dame Blanche who modernised her Caribbean roots with electronic music, not Django 3000 who call themselves Bavarian Gypsy Rockers.
In addition to the concerts, Bardentreffen in cooperation with "folker", Germany's biggest music magazine for Song, Folk & World, will take on the task of dealing with this controversial topic from a theoretical and social-political angle. In the manse yard and the chapter hall of St Sebaldus' Church, we are planning interviews, discussions and talks for all three festival days. Guests will include journalist and author, Jens Balzer, with a keynote talk on the historical categorisation of cultural appropriation. In addition we plan to have a panel discussion with different actors from the music scene, a talk with festival organisers and a workshop about copyright in cooperation with GEMA (German Association for the Protection of Rights Associated with Musical Performances).
Thanks to our loyal sponsors, such as Sparda-Bank Nürnberg, people will be able to enjoy Nuremberg Bardentreffen free of charge again this year. Stefan Schindler, CEO of Sparda-Bank Nürnberg, emphasised: "We are a cooperative bank, and so peaceful encounters and respectful interaction among people are particularly close to our heart. Sparda Bank Nürnberg and Bardentreffen have stood together for these values for many years." A novel aspect: starting this year, the Tucher Privatbrauerei will be supporting the festival as a further main sponsor. "We have always given a stage to the enjoyment of life", assured Kai Eschenbacher, Head of Marketing/PR. "This is why it is with great pleasure that we make our contribution to the free of charge Bardentreffen, because it simply makes our Nuremberg quite special."
The programme booklet containing the full programme will be available from mid-June and may be purchased for 6 Euros in the region's bookshops or ordered online. The silver instrument pin – this year, it's a grand piano – will be available from early April via the Bardentreffen website for a donation of 6 Euros or more.
By purchasing the programme booklet and making a donation for the pin you will help refinance Bardentreffen and make your contribution to continue free of charge enjoyment of this world music festival.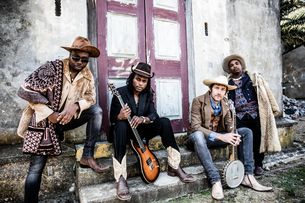 Congo Cowboys (Photo: Jonx Pillemer)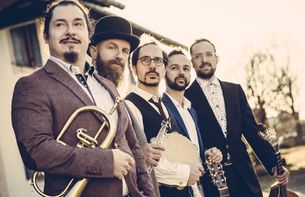 Bavaschôro (Photo: Lena Semmelroggen )
Some of the groups for the "Stolen Sounds?" festival:
Congo Cowboys (ZAF) // Orchestre International du Vetex (BEL) //Äl Jawala (GER) // Omiri (POR) // Fleurs Noires (FRA/ARG) // Jameration (FRA) // London Afrobeat Collective (GBR) // Studio Shap Shap (NER) // Cara (GER/IRL) // NC Brown's Chamber Blues Band (GER) // Pino Barone & Band (ITA/GER) // Luciano Biondini & Klaus Falschunger (ITA) // Marion & Sobo Band (GER/FRA) // La Dame Blanche (CUB/FRA) // Django 3000 (GER) // Leleka (UKR/GER) // Bavaschoro (GER) // Béatrice Kahl & Elke Wollmann (GER)…and many more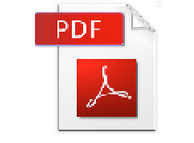 "Stolen Sounds?" - Topical focus 2023
Download