Music without borders since 1976
See you from July 31 till August 02 2020!
Topic 2019: "World Wild Accordion"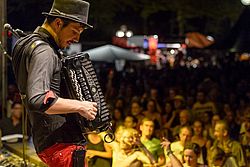 Don't worry! Audiences at the Nuremberg Bardentreffen will not need any airbags or crush-collapsible zones, when this year the most varied musical cultures clash in the historic Old Town. From "A" for accordion to "Z" for Ziehharmonika (concertina) the 2019 World Music Festival will have as its theme the "Wide Wild World" of the sounding squeezebox.